350Z Turbo from Nissan?
01-04-2005, 02:10 AM
Registered User
Join Date: May 2003
Location: Bakersfield, CA
Posts: 1,004
Likes: 0
Liked 0 Times in 0 Posts
---
Originally posted by Masterfulks
The salesguy told me that they had some items in their shop that could get me up to 350 to 400 hp with "very little money"....

Um yea...
What is it a DPS unit!!
haha
01-04-2005, 07:48 AM
Registered User
Join Date: Nov 2004
Location: TN
Posts: 5
Likes: 0
Liked 0 Times in 0 Posts
---
Originally posted by Janus
So far, I haven't seen any pictures of an engine like that on the Japanese Nissan website, but I did find out that the New Skyline (infinity G35 in the states) has 2 options for engines:

"Neo Di VQ25DDI" and ""VQ35DEI"

so, what do the "DDI" and "DEI" designations mean on the engines?

The 350z's engine is listed as "VQ35DE(Neo)I" on the japanese website also...

So, why does the skyline have a VQ25? That seems odd, unlis its for FI? Can someone who actually reads Japanese please check for us? =P


(btw here is the website: http://www.nissan.co.jp/ )
The pic was supposedly from the Stagea, I couldn't find it but I can't read Japanese either so I haven't a clue where to click to even get to the cars!
Someone needs to read this page too, it's the JGTC Z - and what looks like a turbochardged Z. I read about a turboed VQ35 in this car from another site, but never could find any other info on it.
http://www.nismo.co.jp/M_SPORTS/RACE...004/index.html
EDIT: translations says VQ30DETT 3.0L twin turbo V6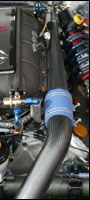 ---
Last edited by proaudio22; 01-04-2005 at

07:56 AM

.
01-04-2005, 11:30 AM
Registered User
Join Date: Jul 2004
Location: Raleigh, NC
Posts: 2,311
Likes: 0
Liked 0 Times in 0 Posts
---
Originally posted by Poison123
Your right tt, buy a base for what 26 otd, figure 10k for a complete TT solution. So thats 36k, you'd be paying 40k at least for one through Nissan.
Personally speaking, I would not go with a Base model as the start of a force induction Z. The lack of a LSD I pretty much the only reason. I would just start with an Enthusiast so you have that LSD.
Originally posted by Risk
With as many trannys the NA Zs go through under warranty, how many of you really think Nissan wants to put 100hp more through em!
FI Z's don't go through tranny's any faster than NA Z's do. The gears are not getting messed up from power or anything, it is the synchro's from the shift mechanism. That is why some dealerships have warranty'd FI Z's trannys.
01-04-2005, 09:04 PM
Registered User
Join Date: Apr 2003
Location: Toronto
Posts: 42
Likes: 0
Liked 0 Times in 0 Posts
VQ25 and VQ35
---
In Japan the Skyline has a 2.5L or 3.5L engine. The call them 3.5GT with the 3.5L engine. I don't remember what the 2.5L model is called.
I suspect that these are the two engines you have listed below.
Originally posted by Janus
So far, I haven't seen any pictures of an engine like that on the Japanese Nissan website, but I did find out that the New Skyline (infinity G35 in the states) has 2 options for engines:

"Neo Di VQ25DDI" and ""VQ35DEI"

so, what do the "DDI" and "DEI" designations mean on the engines?

The 350z's engine is listed as "VQ35DE(Neo)I" on the japanese website also...

So, why does the skyline have a VQ25? That seems odd, unlis its for FI? Can someone who actually reads Japanese please check for us? =P


(btw here is the website: http://www.nissan.co.jp/ )
Thread
Thread Starter
Forum
Replies
Last Post