STOP and take a look at our Brake selection, Street to Track we have your back.
07-31-2015, 10:01 AM
STOP and take a look at our Brake selection, Street to Track we have your back.
---
Whether its to improve the appearance, to shorten stopping distance for safety's sake, or to help knock some time off the clock on the next track day. MA Motorsports has what you need, for the stock replacement, to custom spec big brakes, we are here to get you what you need!
Feel free to call 410-593-7080 and ask for Daelen, or PM here with ANY questions. We are here to help.
Big Brake Kits
Willwood Kits
6 Piston Superlite 6R Big Brake Kits --- Front
Offered in 14" Rotor(18" wheels) and 13.06" Rotor (17" Wheels)
Forged Narrow Superlite 6R Big Brake Front Brake Kit (Hat)

The unsurpassed braking capacity of the Forged Narrow Superlite 6R six-piston caliper serves as the base of this group of 13"-14" big rotor kits for these popular late model vehicles. FNSL6R kits are engineered application specific for simplified installation and full compatibility with OE master cylinder output and ABS functions where used. Big brake kits provide increased brake capacity and complimentary style with wheel, tire, and suspension upgrades on show cars and high performance street/track machines. Optional caliper finishes and rotor designs simplify personalizing the style and braking requirements of any application.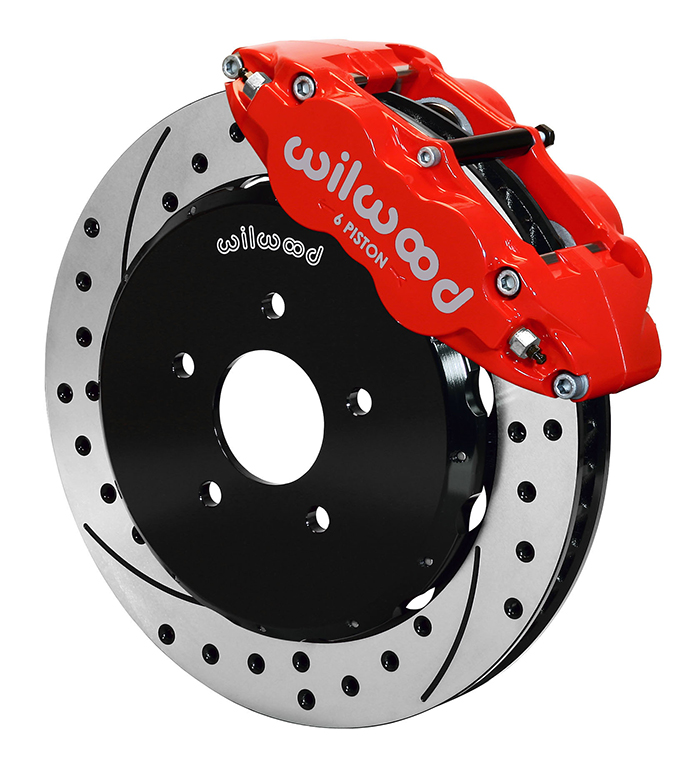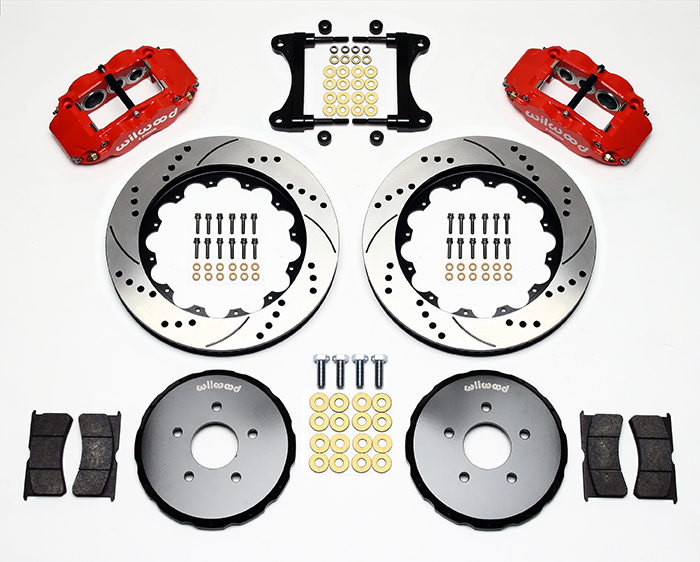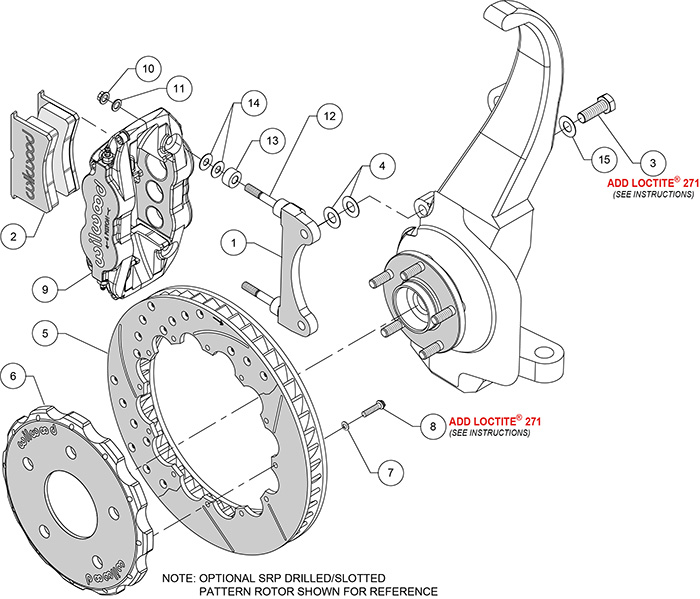 Dynapro Radial Rear Brake Kit For OE Parking Brake
12.88" Rotors (17" Wheel)
Dynapro Radial Rear Brake Kit For OE Parking Brake

Forged billet DynaPro four piston calipers and high performance BP-10 compound pads generate high clamping power with firm pedal response for this group of specialized rear axle brake kits. These kits retain full function of the OE parking brake and provide complimentary performance and style with front big brake upgrades. Caliper piston sizes are selected to provide balanced rear bias ratios using the output from the OE master cylinder. Rear rotor and hat combinations are engineered specific to each vehicle to provide brake performance upgrades and precise fit with the mounting of the DynaPro calipers.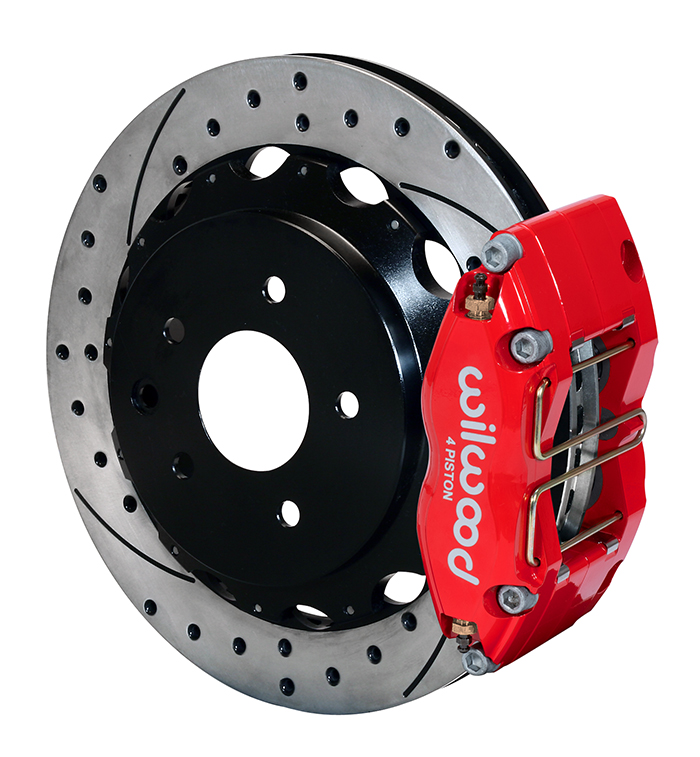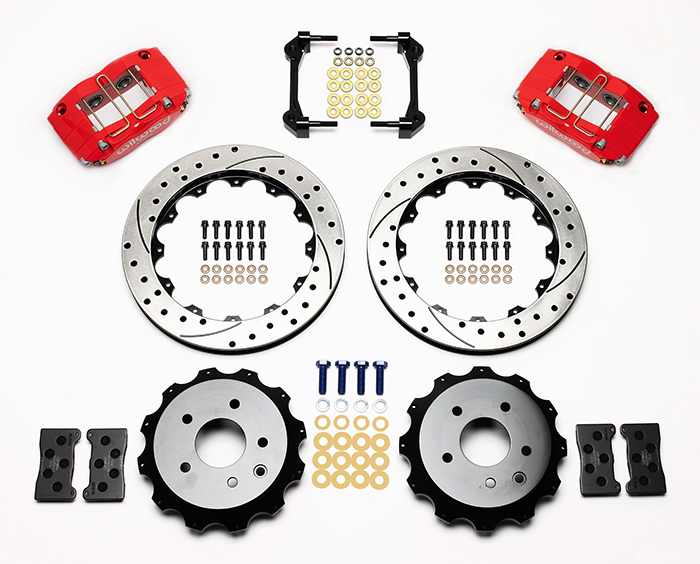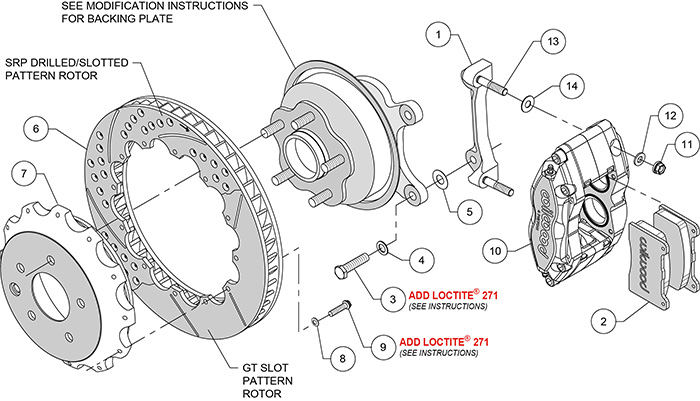 Stoptech Kits
Featuring larger rotors that increase heat capacity, StopTech Big Brake Kits allow drivers to brake harder with every stop. The two-piece AeroRotors® increase airflow for better cooling, less fade and longer rotor and pad life, while stiffer, fully forged calipers with patented, removable bridges provide better clamping and less pad taper. Additionally, the kit's stainless steel brakelines reduce system compliance to provide a consistent pedal feel and confidence-inspiring responsiveness.
Without disturbing the vehicle's stock front-to-rear brake torque ratio, StopTech's Balanced Brake Upgrade® design precisely apportions front and rear braking resources while factoring in the vehicle's weight transfer under braking. Shorter stopping distances, increased tire traction and improved control of brake input are ensured via this design philosophy.
Kit Includes
• (2) Piston Calipers
• (2) AeroRotors®
• (2) Hard Anodized 6061-T6 Mounting Brackets
• (1) Stainless Steel Brake Line Kits
• (1) StopTech Street Performance Brake Pads

15" Front Rotors - 6 piston Calipers

14" Rear Rotors – 4 Piston Calipers

NISSAN AKEBONO BBK BIG BRAKE KIT
Replacement Rotors
Stoptech Rotors
Available in Blank, Drilled, Slotted, and Drilled/Slotted.
http://d5otzd52uv6zz.cloudfront.net/...32cd99-420.jpg
[/IMG]
DBA Rotors
Available in Drilled/Slotted
Project Mu Rotors
Available in Slotted, Drilled, and Drilled/Slotted.

PADS
Hawk Pads
http://b.cdnbrm.com/images/prm/homep...brake_pads.jpg

HPS --- Great for street, Quiet, most dust.
HP+ --- Great for street/occasional track, Slightly louder than HPs, not very dusty.
Blue ---- Great for track, can be noisy, very little dust.
DTC-60's ----- Track only, loud, need to be warmed up before use.
Stoptech Pads
Great for street, some track, Autocross.
Project Mu
TYPE NS 400 pads offer a well-balanced improvement over the performance of genuine brake pads while reducing dust and noise.

Developed based on race feedback, CLUB RACER RC09 brake pads are an export-only model designed for circuit driving.

HC+800
Superior braking and control across a wide temperature range.


Brake Line Kits
Upgrading to a Stainless line kit will help with Pedal Feel, fluid temperatures and consistency on the track and street. OE Rubber lines can expand under heat, and high pressures causing the pedal to feel sloppy and produce inconsistent braking needs.

We offer a few brands:
Techna-fit
Goodridge

Brake Fluid
Motul RBF600
Extreme high performance polyglycol brake fluid. Far exceeds the standards of DOT 4. Each bottle is filled with Nitrogen, increasing shelf life and eliminating contamination while factory sealed. Extremely high dry boiling point 594F(312C) helps prevent vapor lock and brake fade during hard use, with excellent recovery time. Wet boiling point 401F(205C).
Thread
Thread Starter
Forum
Replies
Last Post